New VxRail ACE features arriving fast and often
Did you know that VxRail ACE dashboard has had 4 updates since the soft launch in May this year? As customers log into the Ace dashboard they are first presented with the latest updates that have been released since their last visit. So far there is roughly a monthly cadence between updates. This rapid development is down to the ACE solution being built on the Pivotal platform. Since the soft launch of VxRail ACE in I have been talking to customers about ACE and showing off this first phase of capabilities. Have you had the chance to check out ACE yet?
Customers dont need to install ACE, the data lake is on our side.
A big advantage for customers is that the ACE Data lake sits on our infrastructure. The customer requires no resources to collect and process the data. This data lake is swelled by the 6200+ customers of VxRail. We want to enable as many customers to use ACE since more data gives better results. The next phases of ACE will begin to introduce AI technologies like machine learning. This will give customers options to have VxRail self-drive and auto-repair their clusters.
How do i setup VxRail ACE?
Getting connected to ACE is even easier with the 4.7.300 update for VXRail . We now can deploy SRS directly in vSphere with just a few clicks. Customers need a Dell EMC support logon and the plugin will auto deploy the srs appliance in seconds. Just provide the Support account credentials and an ip address for the SRS appliance(s). The new appliance will be deployed in the VxRail cluster. You can still point SRS at an existing external SRS appliance that is already running in your network.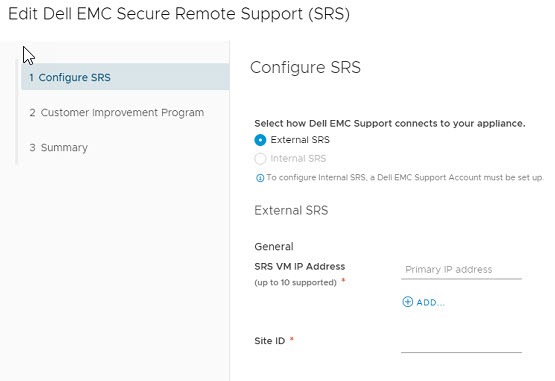 Remind me. What is VxRail ACE?
How can customers take advantage of new technologies without requiring a heavy lift on their internal IT resources? Firstly offer an appliance rather then DIY build for infrastructure helps (VxRail). Then give customers a choice to subscribe to premium services that add value beyond the simplified HCI experience. "VxRail ACE (Analytical Consulting Engine) is a centralized data collection and analytics platform that streamlines monitoring of your VxRail clusters, improves serviceability, and helps you make better decisions to manage the performance and capacity of your pre-engineered hyperconverged infrastructure. " – From the ACE overview.