This year I was fortunate to be given a ticket to VMworld in Barcelona as a partner attendee. Normally when I get to go to a company conference like DTW I have at least some booth duty – but this time I could concentrate on learning and networking. I had read all the guides to surviving VMworld, and digested all the advice and tips. I was careful to book sessions with presenters I wanted to meet before they filled up. The app was an excellent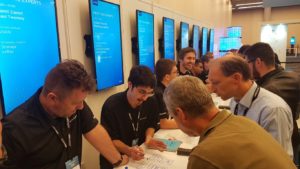 resource and I used it to plan my days and stuck to the schedule I committed to. I was very surprised to see many of the sessions only sparsely attended, especially when I knew the speakers were top class and the sessions had been booked out!
I was only given one small task for the event by the boss. The task was to evaluate the Meet The Experts area and Expert Bar and to find out as much as possible on how it worked for the event. The reason for this is the plan is to run something very similar in Dell Technologies World in Vegas next spring. Last year the Customer Solution Center had a section near the Hands on Labs area where customers could meet with Solution Architects 1on1 and discuss different products and solutions they were interested in. The area was a success, we had many conversations and whiteboards were filled – but next year they wanted to see if we could improve the concept.
I must say I was well impressed with how the Meet The Experts and Experts Bar area were run in Barcelona. From what I have read about past VMworld's the Expert Bar has moved from the VMware booth and now sits next to the Meet the Experts area which used to be called Expert Roundtables. The location that was chosen was ideal in my opinion. It was away from the Rock and Roll of the VM Village and Solutions Exchange, and placed outside of the Breakout Rooms.
At the end of any session, there is limited time to ask questions to the presenters so the Expert Bar gives anyone a chance to walk up and speak to someone while the question is fresh in their minds. The Expert Bar was a simple setup of one long table where engineers (not bartenders) served knowledge not alcohol. The table had room for 8 pairs of experts and a screen behind them displayed the details of their primary and secondary skill-sets. As customers fired questions across the bar, the experts could use the table-top as a whiteboard to explain concepts. The action was fast and furious and the Expert Bar was as busy as any in Las Ramblas.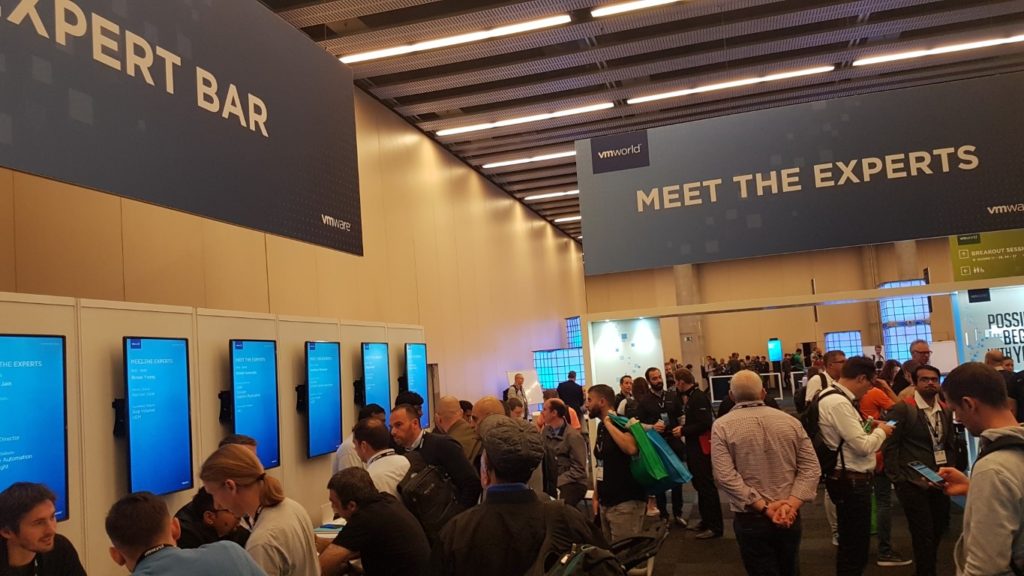 The Meet the Expert sessions were all booked out weeks before the event, through the online scheduler just like any of the breakout sessions. You could search for a specific speaker, or a Topic and book them online. This is exactly what I did, I booked 2 sessions with speakers that I wanted to meet. The session were at least 45 minutes each, with room for 10 attendees. To me this is one of the highlights of the show, an opportunity to get into a small sessions with a well-known speaker and get a chance to have a discussion. I was amazed as I passed the area often to see empty seats. I spoke with the person at the desk checking badges of attendees and learned you could grab a no-show seat if they were full when you booked them.
I joined a session by Pete Koehler @vmpete with 6 customers. Pete and I knew each other virtually when Pete did a skype demo for me on new vROPS features after Dell World 2017. It was great to get to meet him in person and I was delighted when he recognized my badge when I sat down – we had a quick chat before he went into a discussion on vSAN availability scenarios. The session was informal, mostly whiteboard, and the customers were able to ask questions. I was able to intro myself to the group and pitch Solution Centers story, as it turned out one customer asked to contact me after the event for a POC.
I had a second session with Myles Grey @mylesagrey about Kubernetes on vSAN, and I was the only one that turned up! For me this was excellent, because I had heard a lot about Myles and would much prefer to just have a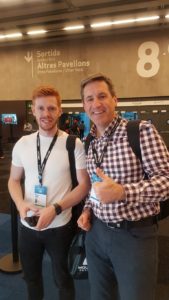 chat while we waited for others to turn up. Myles was an absolute gent and stayed for the full time-slot, he didn't need to do that I would have understood if he headed off. I had another Breakout session later he delivered on NSX that was also excellent.
When I got home from the event I gave a detailed report on the show and I am hoping that we are able to emulate a similar Expert Bar and Meet The Experts session schedule for Dell Technologies World in Las Vegas. If you have time in your conference schedule you would be well advised to include one of these sessions as part of your itinerary.