One of the biggest pain points customers have when managing their current traditional architectures is patching and upgrades. They want a so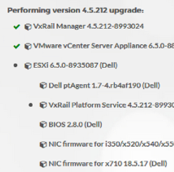 lution that helps them to keep updated but does not introduce risk or take a lot of work to validate and test. Pressures on headcount reductions don't balance with demands from the business to do more at lower costs. Often preventative maintenance is the first to suffer, and that means existing infrastructure is left to fall further and further behind patching schedules.
Hyperconverged solutions combine storage, compute and memory into one solution that virtualizes the underlying hardware infrastructure. Many HCI solution providers suggest that any commodity x86 servers will be just fine as their software and can run on anything. Some HCI solutions run in a virtual machine and can run in multiple hypervisors promising even greater flexibility. These solutions also promise that updating is simple, automated and non-disruptive to the virtual workloads requiring zero downtime.
VxRail appliances also offer a promise of simplicity. Using automation VxRail manager will also perform maintenance across the cluster without requiring any downtime. There is a major difference though in that a VxRail bundle will include updates not only to the software that virtualizes the storage and compute, but also to the hypervisor the software is running on, as well as provide patching to the firmware of the hardware stack as well!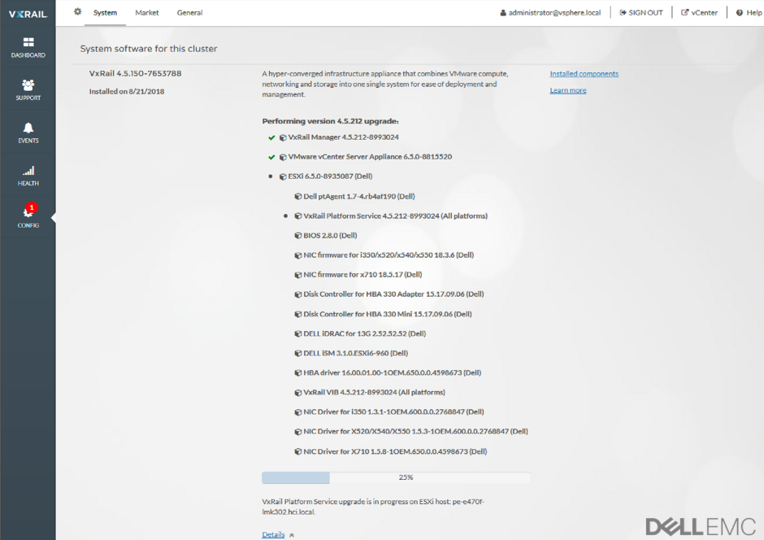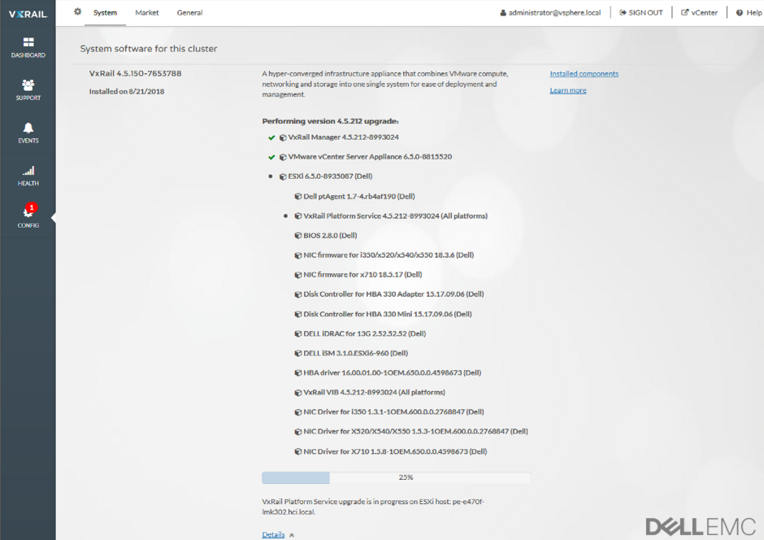 The reason that VxRail doesn't stop at patching just the software (vSAN) running on top is because its an appliance that is tightly integrated with hardware from Dell EMC (based on PowerEdge server technology) and VMware's own ESX hypervisor. The single bundle file used to upgrade the entire stack is first tested and validated by Dell EMC engineering team internally before its ever released to the customer. I have patched mixed node clusters across multi generations of PowerEdge hardware and been delighted at how VxRail manages to pull all the correct BIOS and firmware updates for every piece of hardware. This would be considerable effort in a DIY install.
When you consider that VxRail can also supply a validated and tested bundle for customers to upgrade ESX and the VCSA appliance as well as vSAN from one version to the next you will understand why many customers are choosing this solution. There must be a trade-off though right? We don't shy away from the fact that customers cannot go "off the rails" provided by VxRail manager bundles. They cannot patch just the hardware, or upgrade just vSAN itself. They must use only the bundle that has been provided and apply it using VxRail manager. The time it takes for Dell EMC to validate each bundle before it is released is another trade-off, but many customers are satisfied that VxRail will take the pain of integration testing and validation off their plate. The good news is that Michael Dell has promised that there is "much more to come" in the future with Dell EMC and VMware integration!
This is my second post for #BlogtoberTech.